06jan5:30 pm7:30 pmDubliners: The Sisters and The Dead **STUDY FULL**Dubliners: Between Paralysis and Epiphany in 'The Sisters' and 'The Dead'5:30 pm - 7:30 pm Kentish Town, LondonType Of Study:LiteratureFrequency:WeeklyDuration:Two weeks
Event Details
Dubliners: Between Paralysis and Epiphany in 'The Sisters' and 'The Dead'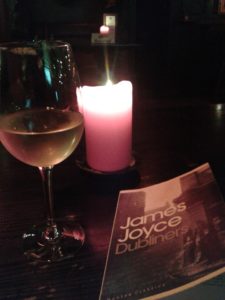 "My intention was to write a chapter of the moral history of my country and I chose Dublin for the scene because that city seemed to me the centre of paralysis. I have tried to present it to the indifferent public under four of its aspects: childhood, adolescence, maturity and public life. The stories are arranged in this order."—James Joyce as quoted in Herbert Gorman's James Joyce (NY, 1939)
Dubliners is characterised by a sense of paralysis. The moral centre of these stories is not paralysis alone but a recognition of that static state. Joyce loved Ireland but could not remain there—part of his critique of his culture and its people is imaged in these stories—in people caught in patterns and prejudices that they cannot escape. In many of the stories collected in this early publication, a clang of awareness or self-realization marks the climax. Often these moments reveal Joyce's fascination with epiphanies- that moment of sudden and intense illumination when a profound truth is/may be revealed.  In Stephen Hero, a character suggests the recording of epiphanies is one of the most important functions of writing: 'they are the most delicate and evanescent of moments' and offer 'a sudden spiritual manifestation, whether in the vulgarity of speech or of gesture or in memorable phase of the mind itself'.  For Joyce, these moments did not occur at the height of the heroic or dramatic gesture, but in the ordinary acts of life.  Are there moments in the readings that fit this description? More importantly, what is revealed?
"I did not know whether I would ever speak to her or not or, if I spoke to her, how I could tell her of my confused adoration. But my body was like a harp and her words and gestures were like fingers running upon the wires."
― James Joyce, Dubliners
SALON DETAILS ***This Salon is now FULL– please contact us if you would like to be added to the wait list***

Facilitated by Toby Brothers
Monday evenings 5:30 pm – 8:00 pm
Two meetings: five hours total
Meetings in Kentish Town
Recommended edition:  Penguin Classics (Feb. 2000) ISBN-10: 0141182458
£60 for the two sessions

---
TO REGISTER for the study, please use the secure Paypal payment button below to pay £60. Opening notes will be sent shortly after registration. The study is limited to 10 participants. Please contact us if you have any questions.
We will discuss the opening and closing stories of Dubliners: "The Sisters" and "The Dead". These are the book-ends of Dubliners and have structural and thematic resonances. This comparison will also allow us to consider the development of Joyce's craft as he prepares the ground for his later experimentation.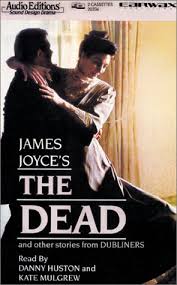 In both works, Joyce is driven to find that moment of illumination, the epiphany, when clarity is suddenly attained. He was convinced this was not a moment of great victory or apparent importance, but often a mundane moment when pieces fell into place.
The style of this study will reflect the traditional Salon format: I will offer a structure for our discussion and particular passages and ideas for us to grapple with, but I encourage and support your contributions to the discussion.  I have no expectations in terms of preparation nor previous Joyce study:The Salons typically have a broad spectrum of participants from the simply curious to literature teachers or lecturers—and some who have spent years reading Joyce. Each person brings their lived experience to the study whether it is a knowledge of the Catholic tradition. Irish history, love of music or intrigue with language: all contribute to our understanding as a group.
Joyce can be…intimidating. Please approach the reading with a sense of play. Much may remain unclear on your first reading; after our work together and if you are able to complete a second reading, you may find the pattern and weave of Joyce's art singing for you. In his writing, he experiments with language and relies less on narrative logic than on the connections and synchronicity of words and events.