10apr5:00 pm7:30 pmThe Essential Socrates: Four Dialogues of PlatoVIRTUAL STUDY5:00 pm - 7:30 pm VIRTUALType Of Study:PhilosophyFrequency:WeeklyDuration:Six Weeks
Event Details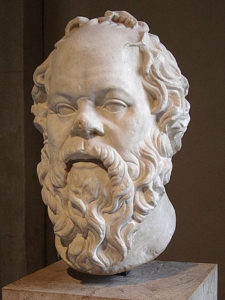 Socrates was described as poor and ugly, called a "numbfish," compared to a satyr—and that was just his friends talking. We are told he was a courageous soldier, the best drinker in the house, who never lost an argument in his life. He seems to have spent most of his days walking around Athens and talking. And he was tried and executed for corrupting the youth of Athens and for impiety against the city's gods. He never wrote a thing, claimed not to be a teacher, and yet he is considered a founder of western philosophy. Who was this enigmatic and seemingly-contradictory man, and why are we still talking about him today?
Socrates is known to us mostly through the writings of his follower Plato. In the six weeks of this study we'll read four of Plato's dialogues that together paint a rich portrait of Socrates, his character and ideas. In the first of our dialogues, the Meno, Socrates and the title speaker Meno search for a solid definition of virtue, and discover themselves confronted by some of philosophy's most basic and profound questions: what can we know, how can we know it, how can we teach, how can we learn? The three dialogues Apology, Crito and Phaedo take us through the trial and death of Socrates, as Socrates makes an impassioned defence of his way of life and prepares to face the unjust sentence declared against him.
Plato's dialogues are very approachable—and a great deal of fun to read together as a group. If you are new to reading Plato—the best way to start reading the dialogues is simply to start reading them. For new and veteran readers alike, every reading unfolds more depth and complexity.
SALON DETAILS

Facilitated by Mark Cwik
Friday evenings 5:00 pm – 7:30 pm GMT

Six-week study, 10 April to 15 May 2020

Online discussions using Zoom meeting interface. Zoom is free for participants, instructions will be sent upon registration.

Recommended edition: Five Dialogues: Euthyphro, Apology, Crito, Meno, Phaedo, by Plato, translated by G.M.A. Grube, revised by John M. Cooper; Hackett Publishing Co, Inc; 2nd edition (2002); ISBN-13: 978-0872206335
£125 for six-week study.

---
TO REGISTER for the study, please use the secure Paypal payment button below to pay £125. Opening notes will be sent shortly after registration.
---
ABOUT THE FACILITATOR: Mark Cwik has been organizing and leading great books discussion groups for adults for over twenty years in London, Chicago and Toronto. He was trained as a discussion facilitator while at the Great Books Foundation in Chicago and has been a passionate advocate for great books education since attending St. John's College, Santa Fe and the University of Chicago Basic Program in Liberal Education.
"I've been coming to Mark's discussion groups for about 15 years . . . Mark is amazing in his ability to keep the group functioning smoothly. He asks questions that get to the heart of the piece and he keeps the group focused on those questions. You don't feel that he's trying to steer us to any conclusion; he's in it with us to figure out what the author is saying. He makes everyone feel welcome and their opinions are respectfully heard. He's always prepared and totally dedicated to advancing our understanding of the great books." — group participant.
---
If you have any questions about this study, please contact us.