28aug7:00 pm9:30 pmFlannery O'Connor One-night study: The Displaced Person *STUDY FULL*7:00 pm - 9:30 pm Kentish Town, LondonType Of Study:LiteratureFrequency:One Off EventDuration:One day
Event Details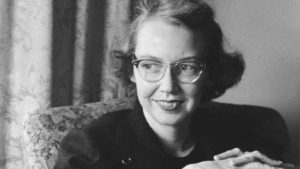 "Where you come from is gone, where you thought you were going to was never there, and where you are is no good unless you can get away from it. Where is there a place for you to be? No place… Nothing outside you can give you any place… In yourself right now is all the place you've got."
― Flannery O'Connor , Wise Blood
The London Literary Salon had a unique opportunity earlier this summer to view the only full-length documentary on Flannery O'Connor with producer and director Bridget Kurt.  The ensuing discussion was full of questions around Flannery O'Connor's aesthetic vision: how much does her Catholicism impact her writing? And how does the contemporary reader situate themselves in a framework of faith that we may not share? How does a reader's immersion in a vision that is framed by a particular faith widen our perspective? O'Conner famously wrote that 'the topical is poison' in fiction. She was more interested in exploring the inconsistencies in human souls– the grotesque corners of violence, prejudice and ignorance. She argues that her stories also offer glimpses of grace that are afforded to all people: probing this proposal in her work makes for an energised discussion.
" The Displaced Person" directly engages racism, anti-semitism and xenophobia. This is a longer short story– at 50 pages, this will give us a broader canvas to consider and discuss O'Connor's writing and vision.
Salon Details
Facilitated by Toby Brothers
Wednesday evening 7-9:30 pm
One meeting Intensive August 28th 2019
Recommended edition: The Complete Stories collection by Flannery O'Connor, Faber & Faber; Main edition (2 April 2009) ; ISBN-10: 9780571245789 (Though the story can also be found on-line)
£35 for Salon Intensive includes background materials and opening notes
STUDY FULL ** Please contact us if you are interested in a similar study in the future**
To register for the study, please use the secure Paypal payment button below to pay £35. Opening notes will be sent shortly after registration.
If you have any questions about this study, please contact us.
Flannery O'Connor is considered to be the master of the American Gothic short story form. Most readers experience discomfort reading her raw and frequently violent stories. Often set in mid-twentieth century southern United States, her stories do not flinch from portraying human hypocrisy, racism, greed and cruelty. Ironically, she is often claimed as a Catholic writer– her faith in some ways integral to her vision. O'Connor was invested in questioning the bizarre nature of humans– and how anxiously the strangeness at the centre of our being is poorly shielded by custom, charity and convention.
Writer Josh Jones (http://www.openculture.com/2019/02/why-should-we-read-flannery-oconnor-an-animated-video-makes-the-case.html) continues this inquiry:
By use of what she called "a reasonable use of the unreasonable" she shows murder, contempt, and deception as shockingly ordinary states of affairs, belying the polite fictions of civility and social niceness. Perhaps no setting could better illuminate the contrasts than the piously violent segregated mid-century American South. O'Connor's "mastery of the grotesque," notes the TED-Ed video by Iseult Gillespie, "and her explorations of the insularity and superstitions of the South led her to be classified as a 'Southern Gothic' writer."
The label may fit superficially, but "her work pushed beyond the purely ridiculous and frightening characteristics associated with the genre to reveal the variety and nuance of human character." O'Connor herself suggested that what set her apart were "the assumptions… of the central Christian mysteries." Though we need not read her work this way, she grants, there is "none other by which it could have been written." We might say that her committed belief in the idea of universal human depravity gave her unique insight into the meaninglessness of class and race distinctions. Few writers have taken the idea as seriously, or approached it with more wicked playfulness.