15feb6:00 pm8:00 pmHenry James: The Portrait of a Lady Seven-week Virtual study2.7.21: One space remaining!6:00 pm - 8:00 pm VIRTUALType Of Study:LiteratureFrequency:WeeklyDuration:Seven weeks
Event Details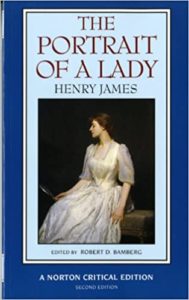 "It has made me better loving you… it has made me wiser, and easier, and brighter. I used to want a great many things before, and to be angry that I did not have them. Theoretically, I was satisfied. I flattered myself that I had limited my wants. But I was subject to irritation; I used to have morbid sterile hateful fits of hunger, of desire. Now I really am satisfied, because I can't think of anything better. It's just as when one has been trying to spell out a book in the twilight, and suddenly the lamp comes in. I had been putting out my eyes over the book of life, and finding nothing to reward me for my pains; but now that I can read it properly I see that it's a delightful story."
― Henry James, The Portrait of a Lady
The Portrait of  A Lady by Henry James
The book is a painted portrait or even a kaleidoscope.  We watch and guess what Isabel will do. But like a portrait, she is (perhaps) caught in a frame and frozen by the artistry –or the terms of her world.
Previous studies have included considerations of gender roles, the negotiated space between self and other, the corruption or freedom offered by privilege, the challenge of looking at nationalities in generalizations (and the tempting ease to do so), the ways in which humans reveal themselves…these Salon discussions are full of wonder: the meeting of the gathered minds and the provoking text is a powerful thing.
Ralph Waldo Emerson seems to echo in the lines and characters of Henry James, Isabel in particular: "You think of me the child of my circumstances: I make my circumstance…I—this thought which is called I, –is the mould into which the world is poured like melted wax. The mould is invisible, but the world betrays the shape of the mould. You call it the power of circumstance, but it is the power of me." –from Emerson's essay The Transcendentalist 
Our study of PoAL may include a consideration of this quote in light of Isabel's life and choices: how much do we make ourselves? How does the world impose itself on the individual in the act of self-creation?
Salon Details and Registration
Seven weeks  : February 15th – March 29th 2021
ZOOM Virtual Study
Facilitated by Salon Director Toby Brothers and Salon facilitator Sarah Snoxhall
Cost £190 includes notes and critical resources
RECOMMENDED EDITION: Norton Critical Edition Oct. 2017; ISBN-10: 0393938530
To register for the Salon study, please use the Paypal button below to pay £190:  Please ensure that the email that is connected to your Paypal account is the same email that you use for  correspondence (if you prefer direct bank transfer, please Contact Us)
From J. Smiley's 13 Ways of Looking at the Novel
"The question (could a novel be art) were…framed in terms of technique, but the ideal was no longer just to promote the novel's ability to communicate more and more details about more and more things, but also to have an aesthetic shape or effect that would be intended by the author and felt by the reader as consciously graceful, beautiful or 'right.'  Foremost proponent of these ideas was Henry James…" p. 134
"Everything that Isabel has learned about love and marriage growing up in the United States turns out to be wrong—in Europe, marriage is a pure commodity relationship, and it is the fate girls to be bought, sold, and dominated. Their only choices are to accept their fate knowingly or undergo it without understanding it. ..In Pofa Lady James does what he intended to do…uses intense psychological analysis and careful depiction of settings to fill the spots where the vulgar might have been. " p. 135
"H. James …recognized that, as vital and satisfying as the English novel was, English novels were missing something that French novels possessed—psychological refinement and depth. …HJ wanted to write…important novels about the progress of the inner life, in which the climax might be only a silent recognition by the protagonist that she has made a commitment fatal to her happiness. Readers had to be educated to understand the weight of such subterranean drama…" p.136