22sep2:00 pm4:00 pmHENRY JAMES: The Europeans and Daisy Miller2:00 pm - 4:00 pm VIRTUALType Of Study:LiteratureFrequency:WeeklyDuration:Three weeks
Event Details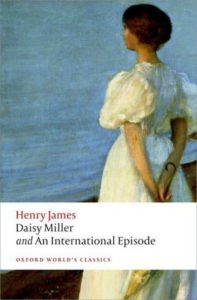 HENRY JAMES: The Europeans and Daisy Miller
The Europeans – 'flimsy' [William James]… 'performance rather than actual feelings' [contemporary critic] or 'a masterpiece of major quality' [F. R. Leavis]?
Daisy Miller – 'an assault on American womanhood' [contemporary critic] or 'Heroine of Fiction' [William Dean Howells]?
Whether as an entrée for those who have found the Henry James of the mature novels hard to digest, or as a lighter course for existing consumers, this salon focuses on two shorter works by James. Both published in 1878, The Europeans is a relatively rare example of James' offering a view of American manners by European visitors, while Daisy Miller is an often overlooked gem about an American ingenue getting out of her depth in Italy.
This three-week salon will offer an opportunity to consider some of the issues which feature more extensively and thematically in James' full-length novels: the collision of ideas of freedom and convention, sexual repression and liberation, innocence and corruption, deceit and honesty, and naivety and sophistication.
SALON DETAILS
Co-facilitated by Salon Director Toby Brothers and Geoff Brown
Three meetings: Tuesday afternoons 22, 29 September and 6 October  2-4 PM
Cost £80.00 includes opening notes and resources
Recommended editions Oxford World Classics Series (ISBN-10: 0199639884 for Daisy Miller, ISBN-10: 019955563X for The Europeans: A Sketch)
To register, please use the Paypal button below to pay £80 for this three- meeting study. Upon receipt of payment, I will send you the opening notes, resources and preparation suggestions.
"Well," said Winterbourne, "when you deal with natives you must go by the custom of the place. Flirting is a purely American custom; it doesn't exist here. So when you show yourself in public with Mr. Giovanelli, and without your mother—" "Gracious!"
― Henry James, Daisy Miller