16feb2:00 pm4:15 pmHomer's Iliad*** SALON FULL ***2:00 pm - 4:15 pm VIRTUALType Of Study:LiteratureFrequency:WeeklyDuration:Eight weeks
Event Details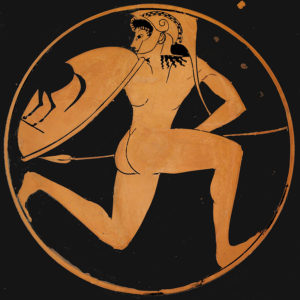 THIS STUDY IS NOW FULL. If you would like to be placed on a wait list, please contact facilitator Mark Cwik.
"Rage—Goddess, sing the rage of Peleus' son Achilles,
murderous, doomed, that cost the Achaeans countless losses,
hurling down to the House of Death so many sturdy souls. . ."
The first great work of European literature is a magnificent poem that challenges us to think about what really matters: about what is worth living—and dying—for. Homer's Iliad recounts the story of the Trojan War, covering just a few pivotal weeks near the end of the ten-year siege of the mighty city of Troy. The invading Greek army's greatest warrior, Achilles, withdraws from the fighting after a dispute with their leader Agamemnon, bringing the threat of defeat and destruction upon the Greeks. His action precipitates devastating results for both sides, ultimately leading to the fall of Troy itself.
Homer portrays a world in which his characters are pulled by forces most of which seem beyond their control. On the human plane, they are driven by loyalties to comrades, fidelity to an oath, responsibility to family and city, subordination to authority, and the lure of fame. Above them, the Olympian gods exert influence both benevolent and malign. Looming over everything is the obscure force called Fate.
Though memorable for its scenes of bloody battle and the squabbling of gods on Olympus, the Iliad exudes an intense humanity, infusing a tragic longing for peace amid the seeming inevitability of war and destruction. Homer invites us to put ourselves into the world of the war: a place no one wants to be, where the gods seem unpredictable, and where there's a genuine question of whether justice is anywhere to be found. Through the struggles of Homer's warriors, the Iliad brings us face-to-face with fundamental questions about honor, community, justice, love, and loyalty, as the story's characters search to make sense of their inescapable mortality.
Each week of this eight-meeting study we will examine closely several key passages of the poem, allowing us to take an in-depth look at the wealth of fascinating characters, conflicts and big questions raised by Homer's epic. The study will take place on Zoom. Each session will last 2 1/4 hours, with a short break mid-session.
SALON DETAILS

Facilitated by Mark Cwik
Tuesday afternoons 2:00 pm – 4:15 pm
Eight-meeting study, 16 February, 2021 to 06 April, 2021

Online discussions using Zoom meeting interface. Zoom is free for participants, instructions will be sent upon registration.
Recommended edition:

The Iliad, by Homer, translated by Robert Fagles, introduction by Bernard Knox; Penguin Classics; ISBN-13: 978-0140275360

£190 for eight-week study, includes notes and questions for preparation.

---
TO REGISTER for the study, please use the secure Paypal payment button below to pay £190. If you would prefer to pay by bank transfer, please email facilitator Mark Cwik to arrange payment.
---
ABOUT THE FACILITATOR: Mark Cwik has been organizing and leading discussions of great literature for over twenty years in London, Chicago and Toronto. He specializes in works from the ancient, mythic and religious world. He was trained as a discussion facilitator while at the Great Books Foundation in Chicago and has been a passionate advocate for great books education since attending St. John's College, Santa Fe and the University of Chicago Basic Program in Liberal Education.
"I've been coming to Mark's discussion groups for about 15 years . . . Mark is amazing in his ability to keep the group functioning smoothly. He asks questions that get to the heart of the piece and he keeps the group focused on those questions. You don't feel that he's trying to steer us to any conclusion; he's in it with us to figure out what the author is saying. He makes everyone feel welcome and their opinions are respectfully heard. He's always prepared and totally dedicated to advancing our understanding of the great books." — group participant.
---
If you have any questions about this study, please contact facilitator Mark Cwik.