14sep4:00 pm6:15 pmHomer's Odyssey4:00 pm - 6:15 pm VIRTUALType Of Study:LiteratureFrequency:WeeklyDuration:Eight weeks
Event Details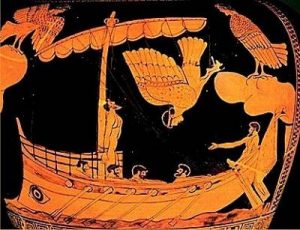 "Tell me about a complicated man.
Muse, tell me how he wandered and was lost
when he wrecked the holy town of Troy . . . "
Homer's tale of the wandering Odysseus and his quest to return home from the Trojan War has captured imaginations for two and a half millennia.
In his ten-year struggle to return to wife and family on his beloved island of Ithaka, the ever-resilient Odysseus roams to the edges of the world and confronts dangers and temptations both natural and supernatural. The giant man-eating Cyclops, the captivating call of the Sirens, the enchantments of the sorceress Circe, the dual menaces of Scylla and Charybdis, and the relentless anger of the sea-god Poseidon all threaten to keep him from returning to reclaim his place as king, husband, and father.
Throughout his travails, Odysseus relies on courage, perseverance, cunning, and craft, as his character is tested and seasoned. At once a story of the exceptional and the universal, the Odyssey weaves together themes of travel and hospitality, loyalty and persistence, wit and deception, growth and self-knowledge, marriage, family, and the longing for home.
For this eight-week study we will read Emily Wilson's 2018 translation of the Odyssey that renders Homer's epic tale in a brisk iambic pentameter and contemporary idiom. This study will be read-as-we-go, averaging about 50 pages of reading per week. The study will take place on Zoom. Each session will last 2 1/4 hours, with a short break mid-session.
SALON DETAILS

Facilitated by Mark Cwik
Eight-meeting study
Tuesday afternoons 4:00 pm – 6:15 pm.

14 September, 2021 to 02 November, 2021

Online discussions using Zoom meeting interface. Zoom is free for participants, instructions will be sent upon registration.
This study will use the 2018 tranlsation of the Odyssey by Emily Wilson. Please be sure to obtain this translation:

The Odyssey, by Homer, translated by Emily Wilson
(W.W. Norton, 2018)
ISBN-13: 978-0393356250


£190 for eight-week study, includes notes and weekly questions for preparation.

---
TO REGISTER for the study, please use the secure Paypal payment button below to pay £190. If you would prefer to pay by bank transfer, please email facilitator Mark Cwik to arrange payment.
If you have any questions about this study, please contact facilitator Mark Cwik.