20jan12:30 pm2:30 pmJazz by Toni Morrison Four-week study12:30 pm - 2:30 pm Kentish Town, LondonType Of Study:LiteratureFrequency:WeeklyDuration:Four weeks
Event Details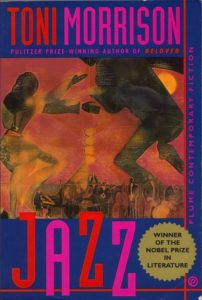 "Risky, I'd say, trying to figure out anybody's state of mind."
Although not as well known as some of Toni Morrison's other novels, Jazz addresses with the power we have come to expect from her issues drawn from the legacy of slavery. The novel is about the flight from the South to the North, from the farm to the city, and from family life to independent living. The backdrop is 1920s New York. The built urban environment replaces the open spaces of Ohio in what is and is not a sequel to Beloved.
The connections and disconnections which Morrison weaves between her characters form a loosely structured saga of generational kinship and friendships, in which preoccupations like love, possession, imprisonment, freedom, hate, and forgiveness, bind and separate people, according to their natures and their experiences.
SALON DETAILS

Co-Facilitated by Geoff Brown and  Toby Brothers
Monday mid-day  12:30- 2:30  (if you are interested in an early evening study on Mondays, contact us)
Four meetings over four weeks from January 20th- Feb. 10th 
Meetings in Kentish Town
Jazz by Toni Morrison edition recommended: Picador of 1992 (many copies available on Abe)
£95 for the four sessions

---
TO REGISTER for the study, please use the secure Paypal payment button below to pay £95. Opening notes will be sent shortly after registration. The study is limited to 11 participants. Please contact us if you have any questions.
Despite its title, this is not a novel simply about music. Yet musical rhythms run through its heart. Nor is it simply about race and deprivation, although those issues are central ones. For some commentators, Jazz is Morrison's most difficult book. Its fluid structure certainly requires careful reading. The study will offer opportunities for considering how the complex arrangement of events and the shifting narration of those events can be understood as a pattern of observation and commentary which reflects hard realities alongside psychological truths.
Description by Geoff Brown- co-facilitator of LLS Jazz study 2020