07dec6:00 pm8:00 pmMiddlemarch by George Eliot*** Lockdown special***6:00 pm - 8:00 pm VIRTUALType Of Study:LiteratureFrequency:WeeklyDuration:Seven weeks
Event Details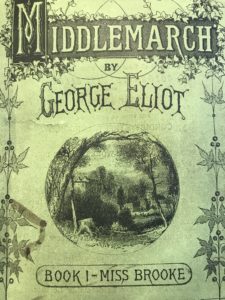 "But the effect of her being on those around her was incalculably diffusive: for the growing good of the world is partly dependent on unhistoric acts; and that things are not so ill with you and me as they might have been, is half owing to the number who lived faithfully a hidden life, and rest in unvisited tombs."
― George Eliot, Middlemarch
In Middlemarch, Eliot probes the complexity of human nature and studies the idea of vocation: the call to find meaning through work in a provincial world.
I love the dilemma–how is an intelligent woman going to be intellectually stimulated in a time when there are so few options for women? This reflects Eliot's own story: why does she write under a male pseudonym? Dorothea settles on marriage to an older man, a scholar and (she hopes) a mentor–ironically making an intellectual choice about the desire of the heart. What ensues is her struggle to be the person she aspires to being a world which values none of the ideals that interest her.
I love how psychological Eliot is, how interested she is in the inner workings of people's minds. Why do Dorothea and Lydgate make the choices they do? Why do they choose people so unsuited to them? As in Daniel Deronda, Eliot is very interested in intellectual/spiritual passion–how religious scholarship can inform or transform a life–but while she is attracted to the dispassionate discipline of religious wisdom, she also knows that earthly love is what sustains us. This tension, between moral ideal and human behaviour, is the drive of the novel and probably makes the most sense in its historical context: a time of great intellectual inquiry, the Victorian obsession with self-improvement. Yet it isn't that different from the self-improvement obsessions of our own time…
This study was added in response to the interest in the previous study of Middlemarch — as well as the requests for something to focus the mind during the next round of lockdowns….the study will continue through the winter holiday.
SALON DETAILS

Facilitated by Toby Brothers
Monday early evening  6:00 pm – 8:00 pm  (*second meeting on Thursday Dec. 17th not the 14th) 
Seven-meeting study, 7 December 2020 through Jan 18 2021 
Online discussions using Zoom meeting interface. Zoom is free for participants, instructions will be sent upon registration.
Recommended edition: Middlemarch by George Eliot (Norton Critical Editions)

Paperback – 26 Jan. 2000 

ISBN-10 :

9780393974522
£170 for seven-week study, includes notes and questions for preparation.

---
TO REGISTER for the study, please use the secure Paypal payment button below to pay £170 (Please contact us if you prefer to pay by direct bank transfer).
I admit that even when I knew I had to dive into the text it took me 3 or four starts. Eliot does not make the work easy to enter: some find Dorothea annoying in her earnestness, others find the narrative repetitive. We are entering a different world and I found once I had the rhythm of the writing, the story was so compelling that the earlier frustrations melted away. The Prelude sets up epic possibilities for female roles by using Saint Theresa and her life as an example of a' life beyond self'. While this first page left me awed with its spiritual grandeur, I had a hard time finding my place in this elevated conversation. But on rereading, I found that Eliot had understood my concern. What the prelude considers is a very recognisable struggle, for me, for women, for anyone who has dreamed large dreams and found that the quotidian world does not always make room for grand design.
From the Prelude:
"That Spanish woman who lived three hundred years ago, was certainly not the last of her kind. Many Theresas have been born who found for themselves no epic life wherein there was a constant unfolding of far-resonant action; perhaps only a life of mistakes, the offspring of a certain spiritual grandeur ill-matched with the meanness of opportunity; perhaps a tragic failure which found no sacred poet and sank unwept into oblivion. With dim lights and tangled circumstance they tried to shape their thought and deed in noble agreement; but after all, to common eyes their struggles seemed mere inconsistency and formlessness; for these later-born Theresas were helped by no coherent social faith and order which could perform the function of knowledge for the ardently willing soul. Their ardor alternated between a vague ideal and the common yearning of womanhood; so that the one was disapproved as extravagance, and the other condemned as a lapse."