21oct12:00 pm2:00 pmPnin by Vladimir Nabokov * Date Change*12:00 pm - 2:00 pm Kentish Town, LondonType Of Study:LiteratureFrequency:WeeklyDuration:Three weeks
Event Details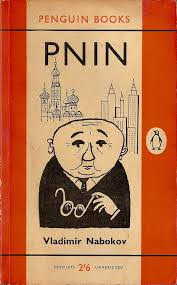 "If his Russian was music, his English was murder."   ― Vladimir Nabokov, Pnin
"Pnin. It's under two hundred pages! You can probably read it in a couple of years."    ― Gary Shteyngart
Pnin is the hidden gem of the Nabokov canon, a comedy of academic manners, a funny, engaging and beguiling portrait of an emigré Russian professor at an American college.
Timofey Pnin starts off as a M. Hulot figure, setting off to deliver a lecture to the Cremona Women's Club – "some two hundred versts west" of Pnin's home campus of Waindell College (inspired by the author's tenure at Cornell in upstate New York). But Pnin is on the wrong train. From this farcical beginning, the character of Pnin deepens into a memorable portrait of an emigré in a strange land, seeking quiet in his rented room, job security amid the bewildering campus politics, connection with his colleagues and students while trying to come to terms with the family, lovers and culture which he has lost.
The book comes between the two masterpieces Lolita (completed in1955) and Pale Fire (1962). Between the monstrous Humbert Humbert of Lolita and the deranged Charles Kinbote of Pale Fire, Nabokov created the sane and decent Professor Timofey Pnin. Indeed, Nabokov wrote the first chapter while struggling to complete Lolita, calling it in a letter to a friend a "brief sunny escape from Lolita's intolerable spell".
Vladimir Nabokov asserted in his Lectures on Literature that : "Curiously enough, one cannot read a book; one can only re-read it." Pnin is short enough to be read closely in the approved obsessive Nabokovian manner, and re-read, over three Salon sessions. This salon is recommended for readers seeking an accessible introduction to Nabokov and for those salonistas in the midst of huge complex books who might relish an immersion in something short, funny but no less rewarding.
Finally – Pnin is pronounced "P-neen". Nabokov advised an interviewer "to try the combination "Up North" or still better "Up, Nina!" – leaving out the initial "u". Pnorth, Pnina, Pnin."
SALON DETAILS
Facilitated by Marcy Kahan
Monday afternoons 12:00 pm – 2:00 pm
Three meeting study  28th October;  4th  & 11th November
Recommended edition: Pnin by Vladimir Nabokov; Penguin Modern Classics(2000); ISBN-10: 0141183756
£75 for three meeting study includes background materials and opening notes
---
TO REGISTER for the study, please use the secure Paypal payment button below to pay £75 . Opening notes will be sent shortly after registration.
---
If you have any questions about this study, please contact us.