19sep12:00 pm2:00 pmSodom and Gomorrah v.IV in Proust's À la Recherche du Temps...212:00 pm - 2:00 pm Kentish Town, LondonType Of Study:LiteratureFrequency:WeeklyDuration:Six Weeks
Event Details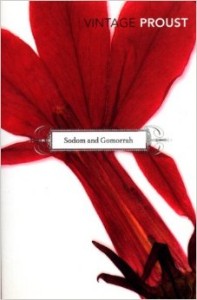 Every reader finds himself. The writer's work is merely a kind of optical instrument that makes it possible for the reader to discern what, without this book, he would perhaps never have seen in himself. -Marcel Proust
After completing incredibly satisfying studies of Ulysses and Magic Mountain, we have turned to the next big mountain of Modernism, Marcel Proust's In Search of Lost Time. A wonderful group has worked through the first three volumes, overturning ideas around intimacy, jealousy, perspective, history– now we turn to Vol. IV: Sodom and Gomorrah (recommended edition: Vintage Classics, trans. C. K. Scott Moncrieff). This six week study will consider the second 300 pages of the work: our experience has taught us that 50 pages per week is more than enough.
The Proust study thus far has helped us to embrace the experience of slow reading and contemplation. Proust\'s writing requires a wide awake mind as the reader is drawn into dissecting the world as it is experienced and the way our minds decorate and create memories, values and paradigms of understanding. This sounds so dry; the wonder is how deeply sensual Proust\'s work is– he is most concerned with the experience of intimacy and how this dance between two beings is fractured and re-imagined through the lens of perception. This volume, in particular, explores the map of passions and the hidden constructions of desire.
Chris Power\'s review in the Guardian offers some useful perspective: "If volume one of In Search of Lost Time represents the novel\'s overture, and volumes two and three are concerned chiefly with Marcel\'s jejune preconceptions about society and their subsequent explosion, then Sodom and Gomorrah is, as its title suggests, unabashedly about forbidden passions. From Marcel\'s chance witnessing of a spur of the moment coupling between an aristocrat and a tailor to the male bordellos of Paris, the book bulges with accounts of love at its most urgent, jealous, lubricious and clandestine."
If you have not been part of this journey so far & want to join the Proust adventure, the Wednesday evening study has a few spaces and is still early in the volumes.  Here is how one Salonista describes the pleasure and work of reading Proust: " This is a velvet jewel of a book that demands the attention of a lover full of enchantment and obsession ,we need not get impatient as all good lovers perfect their art in taking their time."
Part II—Sodom & Gomorrah
Six-week study from September 19ththrough November 7th2019
No meetings October 3rd, 24th
Reading Schedule:
19/9 to 360 to 'although the propriety of the dark clothes  M. De Cambremer invariably wore…'
26/9 to  412   '…himself a warrior like Saint Michael.'
10/10  to  461  stop at the paragraph starting: ' To revert to the afternoon drives which Mme Verdurin used to organize…'
17/10 to 508   to 'And so Mme Cottard's mistake amused me greatly.'
31/10 to  562  stop at paragraph starting: 'At Hermenonville  M. de Chevergny would sometimes get in…"
7/11 Finish—p. 615
THE REST OF THE STUDY: Captive-Fugitive (two volumes in one book) will take 15 weeks; Time Regained= 450 pages over 8 weeks (approx.. 55 pgs per week)—this has us finishing approx. end of May/ mid-June 2020! I propose:
Start Captive Nov 14th—Dec 12th(Five Sessions before winter holidays)
Continue 10 sessions of Captive starting Jan 16th    I have blocked out 10 Thursdays from 16/1 so no breaks—but if a concentration of folks will be missing on the same date from Jan 16th– March 19, we will reschedule.
We will not meet April 2ndor 9thnor May 2nd
DETAILS
Use the Paypal button below to register for the study and pay 145 pounds for the six week study– I will send along opening notes and critical resources once I have received your registration. The study starts September 19th 2019 and will conclude v. IV.