16sep5:00 pm9:30 pmSodom & Gomorrah -- Volume IV of Proust's In Search of Lost Time5:00 pm - 9:30 pm VIRTUALType Of Study:LiteratureFrequency:WeeklyDuration:Three months
Event Details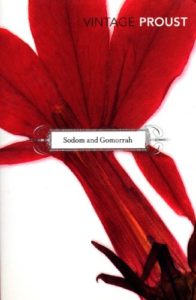 Every reader finds himself. The writer's work is merely a kind of optical instrument that makes it possible for the reader to discern what, without this book, he would perhaps never have seen in himself. -Marcel Proust
After completing incredibly satisfying studies of Ulysses and Magic Mountain, we have turned to the next big mountain of Modernism, Marcel Proust's In Search of Lost Time. This is my fifth tour through the Search— each visit reveals new nuggets and gasping moments This third volume considers closely the draw of the social dance and the realm of social power: you might not think the anxious aristocracy of the Belle Epoque will teach you something about the world you live in– you will be surprised. The two groups who have made it through the first two volumes in the last six months are lively and welcoming– we have room for two or three in either the afternoon or the evening. If you have not read the first two volumes previously, please contact us to discuss.
Here is how one Salonista describes the pleasure and work of reading Proust: " This is a velvet jewel of a book that demands the attention of a lover full of enchantment  and obsession ,we need not get impatient as all good lovers perfect their art in taking their time."
Reading Proust teaches the reader to observe how the world is experienced, to be aware that although humans are tempted to give greater weight to the perceptual universe, it is the entwining of memory, idealized experience (dreams) and relationships with what our senses perceive that molds our consciousness.
**5-7 PM Full; Two spaces 7:30-9:30**  Please contact us if you have questions about starting The Search in the fourth volume
Salon Details
Facilitated by Toby Brothers
Wednesday afternoons  5-7 PM OR 7:30-9:30 PM
Thirteen Meeting study from June 10th- July 8th; Sept 16- Nov 11 (No meeting October 14th)
Recommended edition: Vintage Classics Moncrief/Kilmartin/Enright  
£290 for thirteen meetings includes background materials, literary criticism, opening notes & discussion notes
This is a VIRTUAL study– depending on the changing circumstances, we may return to live meetings in Kentish Town in October– if you are only able to do this study virtually, please contact me. 
 Use the correct Paypal button below to register . The cost is £290 for the thirteen-week study–this will cover the entire volume. I will send along opening notes and critical resources once I have received your registration. Studies start June 10th .