02apr5:00 pm7:30 pmSonny's Blues by James Baldwin 27.3: STUDY FULL5:00 pm - 7:30 pm VIRTUALType Of Study:LiteratureFrequency:WeeklyDuration:One day,Two weeks
Event Details
Virtual Study of James Baldwin's exquisite short story "Sonny's Blues"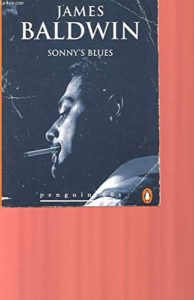 " You think your pain and your heartbreak are unprecedented in the history of the world, but then you read. It was books that taught me that the things that tormented me most were the very things that connected me with all the people who were alive, or who had ever been alive."    James Baldwin
'Sonny's Blues' by James Baldwin
Set in racially-divided Harlem in the 1950s, Baldwin's long short story tells of a lost brother, mean streets, inheritance, nobility and cowardice, and ultimately of the transcendence available in art. This piece- with its riffs, swoops and echoes comes as close as almost any text I have read to the experience of musicality in writing (although passages from Invisible Man may challenge this proposal).
Our discussion will focus on the language, the narrator and what he tells us, what he does not tell us and his relationship with his brother. I find the writing itself to be beautiful: if there are passages that speak to you, note those and we will share some of the most lyric. You can access this story on-line or find it in many short story anthologies–please contact me if you have any difficulties accessing a copy. I recommend you print it out and write on it– circle passages that shout out to you– note places where you have questions— start your conversation with the work by writing on the pages.
"For, while the tale of how we suffer, and how we are delighted, and how we may triumph is never new, it always must be heard. There isn't any other tale to tell, it's the only light we've got in all this darkness."–Sonny's Blues
As this story brings up issues around racism and difference, our discussion requires thoughtful openness and honesty. My experience has shown me that discussing powerful issues in reflection of a work of literature provides a solid platform for us to launch into the areas that are the ugliest aspects of our humanity—and tend to be difficult to discuss.
3.27 THIS STUDY IS NOW FULL– please contact us if you are interested in this study– I plan to offer another one…
SALON DETAILS ***In light of the current epidemic, the London Literary Salon is offering VIRTUAL studies- we will be using ZOOM for our seminars– so you can join from anywhere in the world*** please contact me if you need help with ZOOM.
Facilitated by Toby Brothers
 Thursday April 2nd : 5 PM to 7:30PM (GMT)
One meeting: 2.5 hours total
Meeting on line
Recommended edition:  
£25 includes notes and commentary

---
TO REGISTER for the study, please use the secure Paypal payment button below to pay £25. Opening notes will be sent shortly after registration. The study is limited to 10 participants. Please contact us if you have any questions.
To register for April 2nd– Thursday