16aug1:00 pm3:30 pmThe Best of Shakespeare: A Session of Poetry from 'the Bard of All Bards'Evening session full; NEW TIME available 1:00 pm - 3:30 pm VIRTUALType Of Study:LiteratureFrequency:One Off Event
Event Details
"The quality of mercy is not strained;

It droppeth as the gentle rain from heaven

Upon the place beneath."

Portia, The Merchant of Venice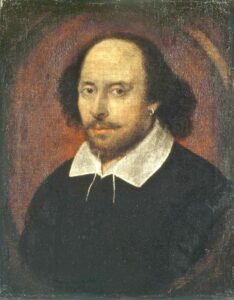 Shakespeare's poetry is among the most-quoted in the English language. Many of us have committed lines to memory which remain with us long after the plots and characters have faded beyond recall. Though we can read or recite them beautifully, we may never have fully stopped to consider how profoundly these lines are connected to the characters or plays – or even what they mean. They simply stay with us for the feelings they stir in our hearts.
In this single-evening session, participants will have the opportunity to read some of Shakespeare's most beloved poetic speeches aloud together and discuss why we love them (or do not), how they resonate and what they might mean in and out of the plays in which they appear. Together, we will discuss context, character and language to enhance our experiences with these richly nuanced lines. In sharing our insights with one another, we may come to a new understanding of the plays, characters, speeches, words and even ourselves.
We will focus on poetic speeches in plays that have not recently been explored in the London Literary Salon, including (subject to change) The Tempest, King Lear, Romeo and Juliet, Richard III and The Merchant of Venice. Prior to the evening, participants will be sent copies of the speeches from which to select a favourite to read (first come, first served). Depending on numbers, two participants will each read one speech for the group to discuss together.
No acting talent necessary! The facilitator's background is in English Renaissance drama in print, the objective is not to hone dramatic skills but rather to gain new insight into Shakespeare's words and the worlds of the plays.
23.6.21 Update: We are offering a second study as the evening study has filled
Salon details:
Facilitated by Julie Sutherland
Single meeting via Zoom
Monday, 16 August 2021, 5-7.30 pm (BST) FULL   New time available 1- 3:30 (BST)
£25 to include opening notes and text
TO REGISTER for the study, please use the secure Paypal payment button below to pay £25. Contact us if you prefer to pay by direct bank transfer. Opening notes will be sent shortly after registration. Please contact us if you have any questions.
---
ABOUT THE FACILITATOR: Julie Sutherland is deeply interested in the capacity of literature—both read and in performance—to effect change in the human spirit. After completing an MA and PhD in English Studies and Seventeenth-Century Studies at the University of Durham, Julie returned to her home country, Canada, to teach Shakespeare and Renaissance Studies at the University of British Columbia and Kwantlen Polytechnic. She has also developed curriculum for Athabasca University's online Shakespeare modules and created a Shakespeare-for-children programme for an outdoor education group on a tiny island off the Eastern coast of Canada.
Julie has been recognized for teaching excellence in Shakespearean drama in Canada and the UK. She regularly leads creative workshops on Shakespeare and other literature for the ReLit Foundation, a 'reading for well-being' charity based in both Oxford and Arizona. Julie has also worked in theatre production and administration and even managed to play Titania, Queen of the Faeries, in a semi-professional production of A Midsummer Night's Dream. 
---