04mar4:30 pm6:30 pmThe Bible as Literature: One-meeting taster**This Study is now FULL**4:30 pm - 6:30 pm VIRTUALType Of Study:LiteratureFrequency:One Off EventDuration:One day
Event Details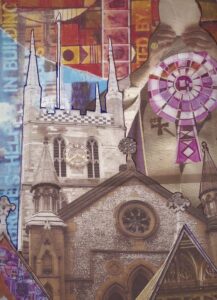 In the beginning was the Word: A 'taster session' on reading the Bible as literature
From William Shakespeare to T.S Elliot, James Joyce and into the modern day, allusions from the Bible permeate our literary landscape and everyday language, but how do we understand and read the book itself? The Bible (from the ancient Greek, tà biblia, the books) is in reality a library of many texts, written in diverse languages originating from widely spread periods and cultures. History, biography, liturgical practise and law; mythology and poetry all find their expression within its pages. A sacred and immutable scripture to some; an irrelevant, provoking or almost entirely unknown work to others, The Bible is a book which can be read in many different ways.
To explore some basic principles of reading The Bible through a literary lens, we will first explore aspects of the whole text, then examine a short passage from the prologue to the Gospel of John. This passage centres around the principle of 'The Word.' We will examine how the passage speaks to us just as we might any piece of prose. Whether you come from a faith background or none, you are welcome to sojourn with us into a biblical landscape that promises many revelations.
Salon Details:
•   Facilitated by Dr. Nicky von Fraunhofer
•
Thursday 4th March 4.30-6.30pm
•    Reading material: First chapter of John's Gospel verses 1-18 (John 1: 1-18) in any version.
•   There is no charge for the meeting but you are invited to make a donation (£20 suggested)  to
Life After Hummus,
 a local community benefit society, using the Paypal button below. If you are unable to donate but would like to join the study, please
contact us
for details. Study registration includes background notes.
PLEASE NOTE THIS STUDY IS NOW FULL  Nicky plans to offer a longer study on the Bible as Literature- stay tuned! 
The discussion will refer to two popular translations (New Revised Standard Version and King James) however you are welcome to use any version, as our reading will follow verse numbers in the text.
It is not necessary to own a Bible as the text is freely available on many websites, for example, www.Biblegateway.com
The entire King James version may be downloaded from:
If you have any questions about this study, please 
contact us
.