27jan7:30 pm9:30 pmThe Captive & The Fugitive -- Volumes V & IV of Proust's In Search of Lost Time7:30 pm - 9:30 pm VIRTUALType Of Study:LiteratureFrequency:WeeklyDuration:Three months
Event Details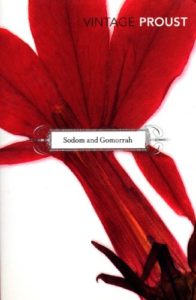 Every reader finds himself. The writer's work is merely a kind of optical instrument that makes it possible for the reader to discern what, without this book, he would perhaps never have seen in himself. -Marcel Proust
After completing incredibly satisfying studies of Ulysses and Magic Mountain, we have turned to the next big mountain of Modernism, Marcel Proust's In Search of Lost Time. This is my fifth tour through the Search— each visit reveals new nuggets and gasping moments This fifth and sixth volume considers closely the seductive agony of jealousy. The two groups who have made it through the first two volumes in the last six months are lively and welcoming– we have room for two in the evening (the 5-7 PM group is full). If you have not read the first four volumes previously, please contact us to discuss.
Here is how one Salonista describes the pleasure and work of reading Proust: " This is a velvet jewel of a book that demands the attention of a lover full of enchantment  and obsession ,we need not get impatient as all good lovers perfect their art in taking their time."
Reading Proust teaches the reader to observe how the world is experienced, to be aware that although humans are tempted to give greater weight to the perceptual universe, it is the entwining of memory, idealized experience (dreams) and relationships with what our senses perceive that molds our consciousness.
**5-7 PM Full; Two spaces 7:30-9:30**  Please contact us if you have questions about starting The Search in the fifth volume
Salon Details
Facilitated by Toby Brothers
Wednesday afternoons  5-7 PM OR 7:30-9:30 PM
15 Meeting study from January 27th- May 26th;  (No meetings October 14th)
Recommended edition: Vintage Classics Moncrief/Kilmartin/Enright  
£345 for 15 meetings includes background materials, literary criticism, opening notes & discussion notes
This is a VIRTUAL study–
 Use the Paypal button below to register . The cost is £345 for the fifteen-week study–this will cover the entire volume. I will send along opening notes and critical resources once I have received your registration.  
For WEDNESDAY evenings 7:30-9:30  pm:
---
If you have any questions about this study, please contact us.
I'd  like to share with you part of Edmund White's essay on this section from Andre Aciman's collection The Proust Project:
"In these pages, Proust alludes to so many conflicting theories of homosexuality that they end up by casting doubt on one another — and on all such theories.  In fact they suggest, finally, that only the conventions of a few cultures (but not all or even most cultures) determine the definition of normality; mere convention and nothing more absolute defines the status of homosexuality.
On the face of it nothing could seem further from the Proustian position.  He starts out with the most extreme (and the most offensive) theory; that male homosexuals are inverts, i.e., women disguised as men.  this whole initial disquisition on homosexuality is triggered by Marcel's realization that Charlus's face in repose is that of a woman since 'he was one.'  This is the theory of 'the soul of a woman enclosed in the body of a man' first worked out by the German sexologist Karl Heinrich Ulrichs in 1868.
Proust plays with the theories and homophobia of his time — and exposes societal hypocrisies in all forms.