05jan4:00 pm7:00 pmThe Dead by James Joyce Salon IntensiveVirtual Salon4:00 pm - 7:00 pm VIRTUALType Of Study:LiteratureFrequency:One Off EventDuration:One day
Event Details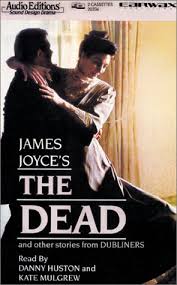 James Joyce's The Dead
This longer short story is a rich feast through which one may taste the world of Joyce. Nothing – NOTHING – in Joyce is casual. Each image, reference, description carries symbolic resonance. Career Joyce scholars may try to align all the references – but I like W. Tindall's attitude: "The text is not a system of mathematical equations but a flexible relationship of possibilities. . ." Bearing this in mind, we will dig at some of these references to give a sense of the richness in the writing.
Pay attention to the title even as it sits in contrast with the opening scene of the story itself – how is the image of death and the Dead brought up throughout the work? This story also holds to Joyce's fascination with epiphanies – that moment of sudden and intense illumination when a profound truth is, or may be, revealed. Joyce describes the epiphany as 'the most delicate and evanescent of moments' that offer 'a sudden spiritual manifestation, whether in the vulgarity of speech or of gesture or in memorable phase of the mind itself'. For Joyce, these moments did not occur at the height of the heroic or dramatic gesture, but in the ordinary acts of life. What are the moments in 'The Dead' that fit this description? More importantly, what is revealed?
This study would be particularly useful for those in the coming Ulysses 2021 study as a way to warm up your Joyce muscles.
SALON DETAILS:
One-meeting intensive study: 3 hours January 5th 2021
Facilitated by Salon Director Toby Brothers 
Virtual Meeting on Zoom  16:00-19:00 GMT
Cost £50 includes notes and critical resources *reduced cost available for first-time participants* 
RECOMMENDED EDITION: Dubliners by James Joyce (Penguin Modern Classics, Feb. 2000) 

ISBN-13 :

978-0141182452TO REGISTER, please use the Paypal button below to pay £50.00
"Generous tears filled Gabriel's eyes. He had never felt like that himself towards any woman, but he knew that such a feeling must be love. The tears gathered more thickly in his eyes and in the partial darkness he imagined he saw the form of a young man standing under a dripping tree. Other forms were near. His soul had approached that region where dwell the vast hosts of the dead. He was conscious of, but could not apprehend, their wayward and flickering existence. His own identity was fading out into a grey impalpable world: the solid world itself, which these dead had one time reared and lived in, was dissolving and dwindling."
― James Joyce, The Dead