13sep3:00 pm5:00 pmThe Guermantes Way -- Volume III of Proust's In Search of Lost TimeVIRTUAL STUDY3:00 pm - 5:00 pm VIRTUALType Of Study:LiteratureFrequency:WeeklyDuration:Three months
Event Details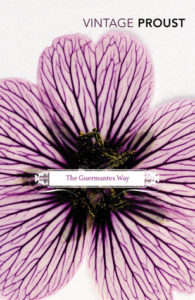 Every reader finds himself. The writer's work is merely a kind of optical instrument that makes it possible for the reader to discern what, without this book, he would perhaps never have seen in himself. -Marcel Proust
After completing incredibly satisfying studies of Ulysses and Magic Mountain, we have turned to the next big mountain of Modernism, Marcel Proust's In Search of Lost Time. This is my fourth tour through the Search— each visit reveals new nuggets and gasping moments This third volume considers closely the draw of the social dance and the realm of social power: you might not think the anxious aristocracy of the Belle Epoque will teach you something about the world you live in– you will be surprised. The two groups who have made it through the first two volumes in the last six months are lively and welcoming– we have room for two or three in either the afternoon or the evening. If you have not read the first two volumes previously, please contact us to discuss. 
Here is how one Salonista describes the pleasure and work of reading Proust: " This is a velvet jewel of a book that demands the attention of a lover full of enchantment  and obsession ,we need not get impatient as all good lovers perfect their art in taking their time."
Reading Proust teaches the reader to observe how the world is experienced, to be aware that although humans are tempted to give greater weight to the perceptual universe, it is the entwining of memory, idealised experience (dreams) and relationships with what our senses perceive that moulds our consciousness.
Salon Details
Facilitated by Toby Brothers
Monday afternoons 12:30-2:30 PM OR 3-5 PM (3-5 PM is full) 
Thirteen Meeting study from September 13th to Dec. 13th
Recommended edition: Vintage Classics Moncrief/Kilmartin/Enright  ISBN-13: 978-0099362418
£315 for thirteen meetings includes background materials, literary criticism, opening notes & discussion notes
 Use the correct Paypal button below to register . The cost is £315 for the thirteen-week study–this will cover the entire volume. I will send along opening notes and critical resources once I have received your registration. Studies start September 13th 2021. 
Here is an avid reader reflecting on their love of this volume (while demonstrating the impact of Proustian prose on one's own writing):
No longer confined to orbiting his parents and living for the freedom of a solitary walk, no longer living in thrall of adolescent hormones and grappling with the strange new worlds blossoming both within and without himself, The Guermantes Way finds our Narrator thrust ever forward into adulthood and the disappointing discovery that grown-ups rarely behave like adults, especially when the pride of ancestral inheritance is on the line and there are duplicitous societal niceties to abide by, while the utterly insignificance and inanity of it all are underscored to devastating though understated effect by the first real taste of loss that this age usually carries with it. This third volume of In Search of Lost Time captures the period when our window to early 20th-century Parisian society is finding his place in it, though, true to his nervous, writer persona, he seems content to observe (now with the emergence of a sly humor) rather than engage with these exalted figures whose human forms slowly pale in comparison to the larger-than-life names he has aggrandized in youth.
It is, I imagine, intentional that battlefield philosophy receives generous attention early in this volume, as everything that follows is revealed to rest upon a framework of military-caliber tactics, from love (or what passes as love within the confines of Proust's created world — ye gods, do any of these characters know what a healthy relationship actually looks like?) to facing the Grim Reaper as he counts down the minutes to one's predestined departure from this mortal coil to the carefully plotted choreography of maintaining superficial acquaintances to simply navigating daily life among even second-rate society when each moment brings a new potential for detonating reputationally ruinous land mines. If my piecemeal knowledge of foreign-language pronunciations isn't too far off the mark, I'd go so far as to suggest that the first syllable of the titular name is tellingly reminiscent of the French word "guerre."