23jun2:00 pm3:15 pmThe Iliad UnhurriedA slow reading of Homer's tragic poem of the Trojan War2:00 pm - 3:15 pm VIRTUALType Of Study:LiteratureFrequency:WeeklyDuration:Twelve weeks
Event Details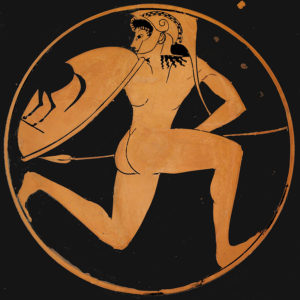 Of the many books we read in a lifetime, some small percentage—maybe just one or two, certainly just a handful—strike us in such a way that we long to go back and really read them. By the time we reach the end, we know there was so much more there than we realized when we first began.
Homer's Iliad is one of those books. What starts out as a story of seemingly petty men and even pettier divinities builds slowly over its 24 books into a profound meditation on some of the most basic questions of human existence—how do we find meaning in a world we don't control? what is worth living for? and what is worth dying for? The Iliad is one of the few, almost miraculous, works of art that grows richer and deeper with every visit.
The Iliad Unhurried study will make a slow, close reading of the Iliad, beginning-to-end. Iliad Unhurried takes a serial approach: once-a-week instalments of a manageable 75 minutes, with no advance reading—something to add to your week without displacing other activities. We'll sip-and-savour our way through, in small weekly tastings.
FORMAT
The pattern for each meeting of Iliad Unhurried will be simple: read-discuss, read-discuss. We'll read aloud a small section of text—somewhere between a paragraph and a page—stop to sift through what's happened, then read on. We'll ask ourselves what we see in the narrative and imagery, what we hear in the language of the characters and the voice of the poem, where the poem leads our feelings and how it shapes our sensibilities. Slow reading allows us to savour the nuances of character, social and political dynamics, and the deep psychological and philosophical undercurrents running through this finest of epics.
The study will read from two translations of the Iliad: the Robert Fagles translation will be our primary version, supplemented by Caroline Alexander's.
Each weekly meeting of Iliad Unhurried will last 1hr 15min. At a planned pace of 4 – 6 meetings per book of the poem, our reading of the entire Iliad will likely stretch to 24 -36 months. We'll adjust the pace to the wishes of the group, and we'll relish the joy of the journey!
Registration for Iliad Unhurried is in subscriptions of 12-weeks at a time.
If you have any questions about this study, please contact facilitator Mark Cwik.
SALON DETAILS
Facilitated by Mark Cwik
Wednesday afternoons 2:00 pm – 3:15 pm
Beginning 23 June 2021
Online discussions using Zoom.
Recommended editions:
The Iliad, by Homer, translated by Robert Fagles, introduction by Bernard Knox
(Penguin Classics, 1998)
ISBN-13: 978-0140275360
The Iliad, by Homer, translated by Caroline Alexander
(Vintage, 2017)
ISBN-13: 978-1784870577

£150 for twelve-week subscription.
---
TO REGISTER for the study, please use the secure Paypal payment button below to pay £150. If you would prefer to pay by bank transfer, please email facilitator Mark Cwik to arrange payment.
---
ABOUT THE FACILITATOR: Mark Cwik has been organizing and leading discussions of great literature for over twenty years in London, Chicago and Toronto. He specializes in works from the ancient, mythic and religious world. He was trained as a discussion facilitator while at the Great Books Foundation in Chicago and has been a passionate advocate for great books education since attending St. John's College, Santa Fe and the University of Chicago Basic Program in Liberal Education.
"I've been coming to Mark's discussion groups for about 15 years . . . Mark is amazing in his ability to keep the group functioning smoothly. He asks questions that get to the heart of the piece and he keeps the group focused on those questions. You don't feel that he's trying to steer us to any conclusion; he's in it with us to figure out what the author is saying. He makes everyone feel welcome and their opinions are respectfully heard. He's always prepared and totally dedicated to advancing our understanding of the great books." — group participant.
---
If you have any questions about this study, please contact facilitator Mark Cwik.