05nov4:00 pm6:00 pmTheir Eyes Were Watching God by Zora Neale Hurston4:00 pm - 6:00 pm VIRTUALType Of Study:LiteratureFrequency:WeeklyDuration:One day,Three weeks
Event Details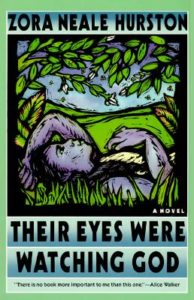 "Ships at a distance have every man's wish on board. For some they come in with the tide. For others they sail forever on the same horizon, never out of sight, never landing until the Watcher turns his eyes away in resignation, his dreams mocked to death by Time. That is the life of men.
Now, women forget all those things they don't want to remember, and remember everything they don't want to forget. The dream is the truth. Then they act and do things accordingly."
― Zora Neale Hurston, Their Eyes Were Watching God
Richard Wright, a fellow Harlem Renaissance writer and critic of Zora Neale Hurston's Their Eyes Were Watching God wrote that her work was not political enough, saying:
"Her characters eat and laugh and cry and work and kill; they swing like a pendulum eternally in that safe and narrow orbit in which America likes to see the Negro live: between laughter and tears. . . The sensory sweep of her novel carries no theme, no message, no thought."
Wow.  That's crushing.
But in the 1970s, the novel, half bildungsroman and half romance, was reclaimed by Alice Walker and a generation of feminists who insisted that the personal is political.  While not a book about politics and race, it can be proposed that Janie's emancipation involves politics and race.  Zadie Smith writes in the forward:
"It is about the discovery of self in and through another.  It suggests that even the dark and terrible banality of racism can recede to a vanishing point when you understand, and are understood by, another human being."
The world of the American South at the turn of the century, particularly Eatonville, Georgia, the first all-Black incorporated town in America, offers a place where Hurston can pay homage to the humour and inventiveness of local language, placing great value on how people express themselves, the folk experience.  In Janie's telling of her own self-discovery and self-determination, we can find imbedded a sexual awakening, folkloric themes and vernacular speech—a rhetoric of authenticity—and the arguments of early feminists. In her quest, Janie experiences different husbands and different communities—travels "to the horizon and back"—in order to tell her own story as a spiritual journey from wealth to power to love.
SALON DETAILS 
Hurston's focus on the Black community, her centring of Black cultural experience and characters may be seen as resistance to the narratives of Black people reacting to racism. Hurston's narrative shows the effects of racial inequality, but the story concentrates on Black relationships, work, story-telling, intimacy and cultural experience. This is a celebration that opens the reader's understanding beyond social protest writing. There are aspects of the writing that the reader has to situate in the time setting: the use of dialect, for example, can be seen as challenging or authentic to the cultural world of the novel.
Few novels of the time centred around a woman speaking for herself in an attempt to understand her own life.  Our discussion will include consideration of desire and love in a society that is bent on the stifling of women and reflections on how the concerns of this story have descended into our contemporary age: what does it mean to be a self-determinate being in our age?