18oct(oct 18)5:30 pm20(oct 20)12:00 pmVirginia Woolf in St Ives: Between the Acts5:30 pm - 12:00 pm (20) St Ives, CornwallType Of Study:TravelFrequency:One Off EventDuration:Weekend
Event Details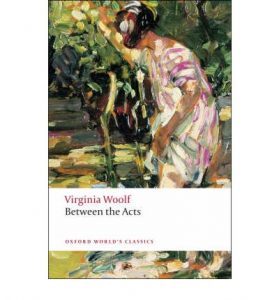 "Here came the sun—an illimitable rapture of joy, embracing every flower, every leaf. Then in compassion it withdrew, covering its face, as if it forbore to look on human suffering. There was a fecklessness, a lack of symmetry and order in the clouds, as they thinned and thickened. Was it their own law, or no law they obeyed?"                         —Between the Acts
** THREE SPACES REMAINING as of August 1st***
SALON DETAILS: 
Weekend Meeting with Tuesday preparation:October 18th-20th 2019; prep meeting Tuesday October 15th 7:30-9:30
Meeting at Kentish Town Salon & St Ives Cornwall; facilitated by Salon Director Toby Brothers
Cost £165 includes notes and critical resources
RECOMMENDED EDITION: Oxford World Classics 2008 (ISBN-10: 0199536570)
To register for the Salon study, please use the Paypal button below to pay £165: (Please pay for the  room directly to No4St Ives once your registration has been confirmed):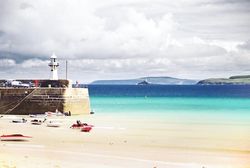 This is something I have dreamed of doing since I first read Woolf's magical book To the Lighthouse— it has haunted me always. The opportunity to study Woolf's writing with a keen group of minds in the place that is so inspired her writing is simply delicious…HUGE thanks to Sharon for being the organisational force here. 
Virginia Woolf:  "If life has a base that it stands upon, if it is a bowl that one fills and fills and fills – then my bowl without doubt stands upon this memory.  It is of lying in bed, half-asleep, haf awake, in bed in the nursery at St Ives.  It is of hearing the waves breaking, one, two, one, two, and sending a splash of water over the beach; and then breaking, one, two, one two, behind a yellow blind […}.  If I were a painter I should paint these impressions in pale yellow, silver, and green.  There was the pale yellow blind; the green sea; and the silver of the passion flowers."
"Here is the past and all its inhabitants miraculously sealed as in a magic tank."
"The past only comes back when the present runs so smoothly that it is like the sliding surace of a deep river.  Then one sees through the surface to the depths.  The past sometimes presses so close that you can feel nothing else."
—"Sketch of the Past," begun in June 1939.
Virginia Woolf spent much of her childhood in St. Ives.  The London Literary Salon invites you to join us in St Ives to explore this lovely coastal town and have it serve as a prism through which we will explore Woolf's perspectives on landscape, domesticity, historical inheritance and identity in her novel Between the Acts. We have already completed four magical weekends with Woolf's writings in the environment that inspired it– this is an incredible experience!
You will have the opportunity to  visit the iconic Tate St Ives gallery overlooking the Atlantic Ocean, built between 1988 and 1993 on the site of an old gasworks, and there will be an optional boat trip to Godrevy Lighthouse.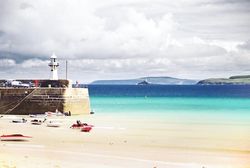 We may also look at Talland House, now privately owned, her childhood summer home.  For several months of the year the elegant house overlooking St Ives Bay would be the Stephens' family home until 1895 when Virginia's mother Julia Stephen died.  Although the complete family never returned to St Ives following their mother's death, her children travellled back in 1905 following the death of their father in 1904.
Accommodation:  We are working with No4 St Ives which is just steps from Talland House and has an elevated position overloooking St Ives Bay.  It is a 5 minute walk from the beach and St Ives Town Centre.
Approximate cost: 
 Rooms at No4 St Ives range from £110-£140 per night– if the room is shared, the cost is halved; breakfast included. Some of us plan to stay Sunday night as well to be able to enjoy an extra day in this beautiful site. The entire cost is to be paid upfront. If for some reason you are unable to attend, we will work to find someone to replace you & reimburse you for the room but can not guarantee that is possible. The Salon cost may be applied to a later study. 
Train cost is approx.  £70  each way(cheaper if bought earlier)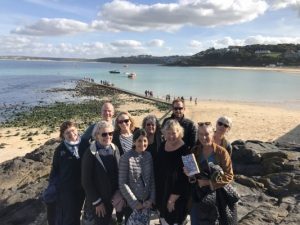 Salon cost is  £165– this includes a two-hour meeting Tuesday October 15th to start the study before the trip — as well as copious notes & critical resources. We will meet around eight hours over the weekend. The first meeting starts at 5:45 Friday evening; the last meeting is scheduled for 9:30-11:30 Sunday morning. On previous trips, many have stayed in St Ives through Sunday evening to have time for further exploration and reflection. Please discuss this option with Sue and Mike from No4 St Ives if you are interested. 
We will enjoy dinner out on Friday and Saturday…other costs will include the optional boat trip & visit to the St Ives gallery. 
Getting there:  The train from London takes just over five hours, with one change at St Erth for the branch line to St Ives.
This event and other in-depth explorations of  Virginia Woolf and her works can be found on the website of the Virginia Woolf Society of Great Britain
More on the study Of Between the Acts:   
Virginia Woolf's lyric prose and gorgeous vision combine to consider the sense of exhaustion that punctuated the Modernist period leading up to WW II. Edward Mendelson describes the book: "Everything comes to an end in Between the Acts, and then, as the book itself comes to an end, something unknowable begins." The book includes a pageant composed of imaginary episodes from 1000 years of English history, and a close examination of the intricacies of village life in England in the days leading up to WW II. As always, it is Woolf's penetrating consideration of intimate relationships and the places where language fails—but something else transcends—that lift this work from "the doom of sudden death hanging over us" as one of her characters describes.

Part of the challenge when reading Woolf is to understand it is not the action that matters but the impression of thoughts; it is by attending to the pattern and signification of thoughts and impressions that we will uncover meaning, innovation. While Woolf was writing this novel, she had written in a letter to Stephen Spender: "I think action generally unreal. It's the thing we do in the dark that is more real; the thing we do because peoples eyes are on us seems to me histrionic, small boyish" (Letters Volume 6, April 1937). Although Woolf was to invoke the illumination of light, it is the darkness in the human mind that she was becoming more fascinated with as she witnessed Europe spinning towards war as she wrote this, her last book.  As Julia Briggs comments,
Oh beautiful and bounteous light on the table; oil lamp; ancient and out-of-date lamp…are the first words that Woolf typed out in April 1938 (as she began BTA)…
The lamp traditionally stands for illumination…yet this novel seeks for the darkness that lies beyond and beneath light and reason: lust, jealousy, contempt, the eruptions of anger and desire that are part of the night world…( J. Briggs, Virginia Woolf: An Inner Life, p. 373)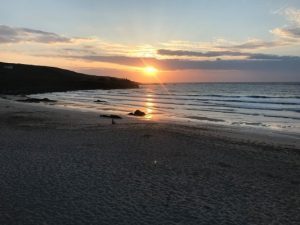 As one of the primary modernist writers, Woolf plays with language; testing its ability to truly reflect human experience by recording the life of the mind not just action. Her narrative form reflects one of the characteristics of Modernist writing in its shifting centre of narrative perspective reflecting a questioning of ultimate and moral authority that characterized the time with the dissolution of Imperialism and absolute values.
Writing from the edge of the violent shift from Victorian to Modernist era, the loss of an old world in the violent destruction of war and massive social change, Woolf's ambivalence is demonstrated in her work. She struggles against the boundaries and structures of the Victorian era while holding a great longing and nostalgia for the noble traditions of the time. Between The Acts reflects this ambivalence in its nostalgia for a lost English idyll, celebrated in the world of Pointz Hall as well as the pageant itself.  Studying this work in 2019, we may find much to consider about our current struggle to understand ourselves in reflection of the past: how we might create an idea of a simpler time that edits out the struggle of many whose story does not figure prominently in the revised history. I suggest Woolf in Between the Acts engages this historic myopia and reflects the discomfort and internal hypocrisies that result.
To understand this book, you will want to read with a wide awake mind and then re-read once you have played on the surface of plot and character. Notice how the descriptions along the edges—the fragments, the other stories invoked, the pastiche of the pageant—all comment on and expand the central narrative.
---
If you have any questions about this study, please contact us.