01nov6:00 pm8:00 pmTHE DUCHESS OF MALFI BY JOHN WEBSTER6:00 pm - 8:00 pm VIRTUALType Of Study:LiteratureFrequency:WeeklyDuration:Seven weeks
Event Details
"The birds that live i' th' field

on the wild benefit of nature, live

Happier than we" (3.5., Duchess of Malfi)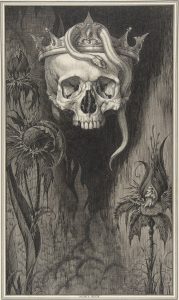 What kind of animal is a human? This provocative question is at the heart of John Webster's great English Renaissance tragedy, The Duchess of Malfi. Webster's extraordinary play was first performed in 1614 at the Blackfriars Theatre by the company Shakespeare made famous—the King's Men.
In a sensational, terror-driven drama of corruption, betrayal and murder, Webster probes the depth of human evil, even while he reveals the spirit of his age—one where melancholy, disillusionment and insecurity about humankind's place in a swiftly changing cosmos were on the rise.
Can love and goodness survive a hornet's nest of corruption? Join us in a study of The Duchess of Malfi to find out!

Who was John Webster?
John Webster (c.1578–c.1632) and William Shakespeare almost certainly met when Webster was a young man. The great Shakespeare was about 15 years his senior and Webster a bourgeoning playwright in the early years of the seventeenth century. Shakespeare may even have acted in a play on which Webster worked as a journeyman—John Marston's The Malcontent. Though Shakespeare was slowly retiring from the theatre, his inspiration was long-lasting. Shakespeare's influence on Webster is everywhere apparent in Webster's great tragedies, but the Bard's young colleague and successor is not a mere imitator. His matchless imagination and powerful command of English, in verse and prose, place him in his own right as one of the Jacobean age's greatest playwrights. (Adapted from Shakespeare & Co, Stanley Wells, Penguin, 2006).
Salon details:
Facilitated by Julie Sutherland
Monday evenings, 6­–8 pm
Seven-meeting study, 1 November to 13 December 2021
Suggested Edition: The Duchess of Malfi and Other Plays, Oxford World's Classics, ed. René Weis (ISBN-10: 9780199539284 | ISBN-13: 978-0199539284). N.B. Available from amazon.uk and bookdepository.com (the latter offers free worldwide shipping and no duty).
£165 for seven-week study; includes preparatory notes and questions.
TO REGISTER for the study, please use the secure Paypal payment button below to pay £165. Opening notes will be sent shortly after registration. The study is limited to 10 participants. Please contact us if you have any questions.